Autumn at the Arboretum features "Insect Encounters" and "Bugtopia"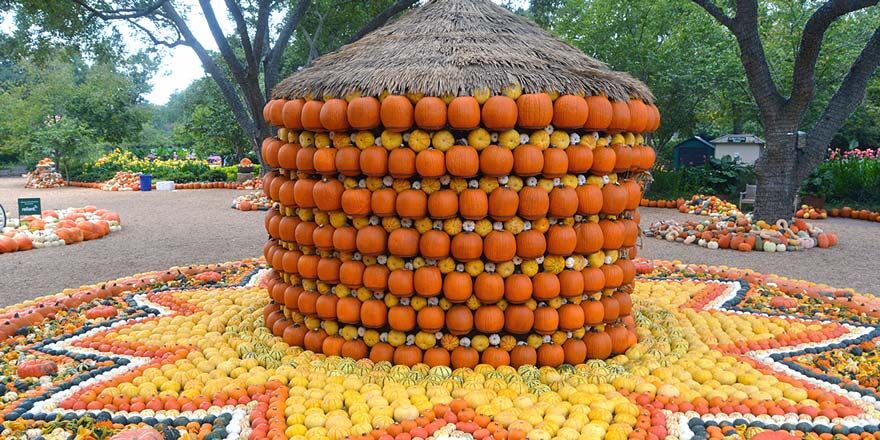 9:00 AM del Sábado 25 de Septiembre 2021 - 5:00 PM del Domingo 31 de Octubre 2021
"The best pumpkin patch to visit with family this fall"
by The Pioneer Woman
Autumn at the Arboretum, presented by Reliant, returns with a "Bugtopia" theme now through October 31. To add to the "Bugtopia" theme and to teach the young and young-at-heart more about insects, the Dallas Arboretum has a full schedule of "Insect Encounters" for visitors in both the Pumpkin Village and plenty of "Bugtopia" activities in the Rory Meyers Children's Adventure Garden. These events are free with paid garden admission.
On October 2 and 3, visitors with paid garden admission will receive free admission to the Rory Meyers Children's Adventure Garden, thanks to Kelley Family Days and this family's generous support to provide access to this eight-acre scientific garden.
Dallas Arboretum Board Chairman Jim Ryan said "Children and adults can get up close and personal with six-legged friends every day during Autumn at the Arboretum. Experience the life of bugs through hands-on demonstrations, expert talks, living specimens, beneficial bug releases, insect-inspired art and more!"
Insect Encounters Schedule at Pumpkin Village:
Mondays and Tuesdays, 11 a.m.–1 p.m.
Beneficial Insect Release: Kids can handle insects and release them to pollinate the Dallas Arboretum. While supplies last.
Wednesdays and Fridays from 11 a.m.–3 p.m.
Native Invertebrate Explorations: Meet the Dallas Arboretum's living collection including walking sticks and tarantulas.
Thursdays from 11 a.m.–1 p.m.
Bee Meet & Greet with Mother's Garden
Weekends:
September 25 & 26, 11 a.m.-1 p.m.: Samantha Peters, Graphic Artist, Dallas Zoo
October 2 & 3, 11 a.m.-3 p.m.: Michael Cook: Silkworms, Silkmoths and Silk
October 9 & 10, 11 a.m.-3 p.m.: Tim Brys, Perot Museum
October 10, 11 a.m.-3 p.m.: Eric Brittingham, Wildlife on the Move
October 16 & 17, 11 a.m.-3 p.m.: Randy Pena, Houston Museum of Natural Science
October 23, 11 a.m.-1 p.m.: Samantha Peters, Graphic Artist, Dallas Zoo
October 24, 11 a.m.-1 p.m.: John Watts, Entomologist, Texas Discovery Gardens
October 30 & 31, 11 a.m.-3 p.m.: Lucas Miller, The Singing Zoologist
Rory Meyers Children's Adventure Garden Schedule:
Wiggle Week
September 25-October 1
Explore creatures that wiggle and squirm from worms and caterpillars to dancing bees.
National Coffee Day
September 29
Celebrate National Coffee Day in the Children's Adventure Garden with special OmniGlobe and STEM Stops activities that explore where coffee is grown, what insect friends pollinate the plant and how it is transported worldwide to your table. Using only one's sense of smell, investigate common spices and scents from the garden or kitchen.
Leap and Bounds
October 2-8
Investigate how bugs move, walk, crawl or leap to find their food and evade predators.
Fantastic Fluttering Insects
October 9-15
Explore the fantastic fluttering butterfly. Take part in Monarch tagging on the incredible Moody Oasis, too.
Camouflage and Take Cover!
October 16-22
Investigate how and why bugs camouflage, and learn about the fascinating world of dragonflies and damselflies.
Awesome Arachnids
October 23-31
In celebration of Halloween, investigate the world of spiders and scorpions during this creepy week. Sticker treating Saturday and Sunday.
Trick-or-Treating in the Children's Adventure Garden
October 29-30 • 6-9 p.m.
Members $8/Nonmembers $10
Don't miss out on a special spooky late night at the Rory Meyers Children's Adventure Garden with tricks and treats and a costume contest. Check website for costume guidelines.


Walne Family Discovery Lab, Exploration Center
Daily • 11 a.m., 2 p.m., 3 p.m.
(For ages 6+)
September 18-24 Walking on Water
Discover how bugs use surface tension to walk on water.
September 25-October 1 Wiggly Worms
Learn how to make an edible wiggly worm.
October 2-8 Great Flying Grasshoppers
Create a flying grasshopper, and see how high your grasshopper can jump.
October 9-15 Magnetic Monarchs
Everyone is attracted to butterflies. Learn how Monarchs use the power of magnetism during migration to and from Mexico.
October 16-18, 21 & 22 Animatronic Insects
Learn about how insects use camouflage for protection, then create an animatronic camouflaged insect with electronics.
October 20 Natural Inks
Discover how ink can be made from natural products, and create an Arboretum inspired artwork using this ink.
October 23-31 Spider Slime
Celebrate Halloween insect-style as you learn how to create your own awesome spider slime!


Puppet Story Time
The Glade • Daily • 10:30 a.m.
Weekends 10:30 a.m. & 11:30 a.m.
Young guests are invited to story time with a bug-filled theme.
9/18-24 The Purpose for Pollinating
9/25-October 1 Ten Little Caterpillars
10/2-8 The Ant and the Grasshopper
10/9-15 Waiting for Wings
10/16-22 Some Bugs
10/23-31 The Very Busy Spider


OmniGlobe Exploration Theatre
Daily • 11:30 a.m. • OmniOutlook
Current weather & space events.
Daily • 2:30 p.m. • Weekly Content
9/25-10/1 Out to Sea
10/2-8 Starry Night
10/9-15 Shakin' & Quakin' in My Boots
10/16-22 Which Biome is My Home?
10/23-29 Worlds Beyond My Sun
10/30-11/5 Tour the Solar System
Daily STEM Stops
Moody Oasis Mornings • 10 a.m.
Texas Native Wetlands • 1:30 p.m.
Exploration Center Plaza • 3:30 p.m.
September 25-28 & September 30-October 1
10 a.m. Bee Dance
1:30 p.m. Texas Native Wetland Critters
3:30 p.m. Worm Investigation
September 29
10 a.m. Bean to Cup
1:30 p.m. Pollination Partners
3:30 p.m. Special Scents
October 2-8
10 a.m. Bug Investigations
1:30 p.m. Texas Native Wetland Critters
3:30 p.m. Bug Moves
October 9-15
10 a.m. Monarch Migration
1:30 p.m. Texas Native Wetland Critters
3:30 p.m. Pollinator Bingo
October 16-22
10 a.m. Bug Camouflage
1:30 p.m. Texas Native Wetland Critters
3:30 p.m. Dragonflies & Damselflies, Oh My!
October 23-31
10 a.m. Wonders of Webs
1:30 p.m. Texas Native Wetland Critters
3:30 p.m. Walk like a Tarantula
Live Science Shows
Various Galleries • Weekends
September 25 & 26 Sensational Silkworms with Michael Cook
October 2 & 9 Butterfly encounters
October 3 & 10 Butterfly encounters with Melissa Singleton biologist, U.S. Fish & Wildlife Service.
October 16 & 17, October 23 & 24 Investigate the lives of honey bees with Honey Bee Rescue, Inc.
The 16th annual fall festival showcases the nationally acclaimed Pumpkin Village with four decorated pumpkin houses created with more than 90,000 pumpkins, gourds and squash from the West Texas town of Floydada. Autumn at the Arboretum also features breathtaking colors of fall with 150,000 fall flowers—marigolds, chrysanthemums and more throughout the 66-acre garden.
In addition to Reliant as the presenting sponsor, other sponsors include Park Place Dealerships, Texas Instruments, Oncor, Kimberly-Clark, CC Young Senior Living, Doyle and Associates, Sidley Austin, Bank of Texas and Rexel USA.
---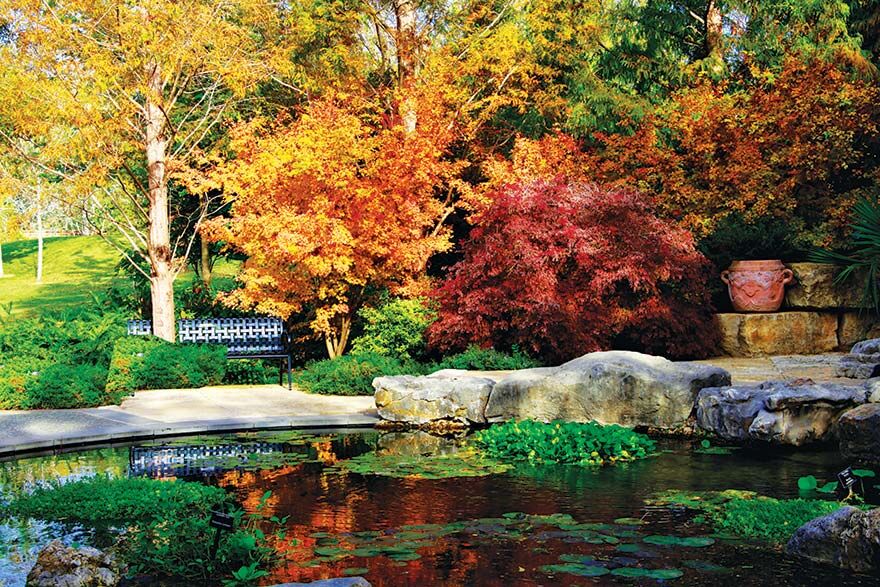 2021 AUTUMN AT THE ARBORETUM BY THE NUMBERS
Years
1982: year Dallas Arboretum opened as a public botanical garden
66: number of acres at the Dallas Arboretum
16: number of years the Dallas Arboretum has had the Pumpkin Village
Pumpkin Village
90,000: total number of pumpkins, gourds, and squash at Autumn at the Arboretum
70,000: number of pumpkins, gourds and squash used to create Pumpkin Village
85,000: Fall blooming flowers and plants
47,000: number of marigolds planted for the festival
1,200: Bales of hay
60: number of workers and volunteers it takes to decorate the garden for Autumn Festival
54: Types of pumpkins, gourds and squash
21: the number of days it takes to build the Pumpkin Village
20: Number of insects in Pumpkin Village
4: number of pumpkin houses
Location:
Dallas Arboretum and Botanical Garden
8525 Garland Road
Dallas, TX 75218
Google Map
(214) 515-6615