Christmas at the Caverns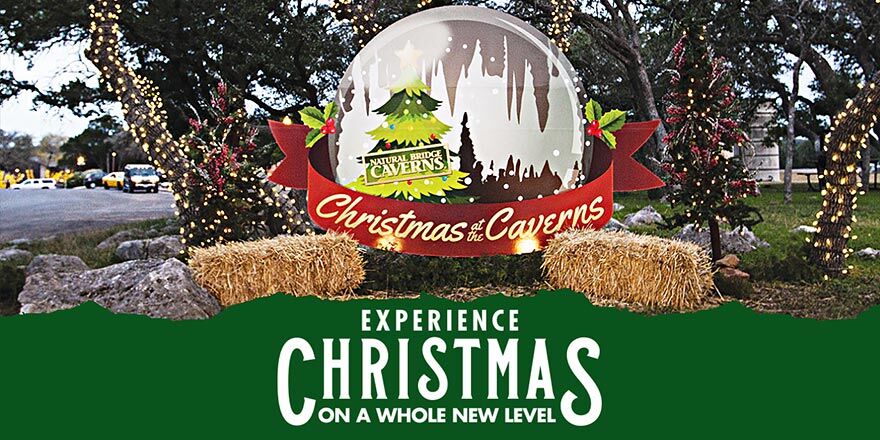 9:00 AM del Sábado 7 de Diciembre
SANTA TO DELIVER MILLION DOLLAR ATTRACTION TO NATURAL BRIDGE CAVERNS JUST IN TIME FOR THE HOLIDAYS
Texas' Largest Cavern System Opens New Outdoor Adventure
Experience Christmas on a whole new level!
December 7, 8, 14, 15, 21, 22, 23
At Natural Bridge Caverns, we celebrate Christmas unlike anywhere else in the world! Nestled in the scenic Texas Hill Country, we kick our holiday festivities up a notch. Hear your favorite carols echo through Texas' largest underground cavern. Get pictures with Santa "Spelunker" Claus, then round up his reindeer in our outdoor maze. As the sun sets behind our 30-foot tall Christmas tree, a hayride rolls through the hills, families roast s'mores, enjoy games, music, a giant snow globe, ice skating, and more.
CLICK HERE
---
Santa is arriving a little early this year. His sled, actually two semi-trucks, will deliver a brand-new million-dollar attraction to Natural Bridge Caverns mid-October. The new "Twisted Trails Sky Adventure Course" will replace the former Canopy Explorer and Canopy Zip Line. The new aerial attraction will be installed over an estimated 31 days by "elves" from Ropes Courses Incorporated (RCI), a Michigan based developer that creates attractions for theme parks, resorts and cruise ships. According to RCI, Twisted Trails, once built, will be the Sky Trail® system that globally features the most Sky Rails™ in an outdoor attraction, Twisted Trails will be equipped with seven rails for participants to enjoy with an impressive 685 feet of total track.
Twisted Trails is an attraction with a long thrill element that puts the guest in complete control of their experience. "These courses offer our guests the opportunity to do something physical, to challenge themselves and, in some cases, overcome their fears. It's an adventure for all ages," said Travis Wuest, co-owner and vice president of Natural Bridge Caverns.
Safety First. A certified operator outfits every participant into a harness equipped with a single redundant sling line that keeps them secure while they work their way among the obstacles. The same safety harnesses are used on the Clip 'N Climb®. Designed specifically for the climbing industry, TRUBLUE™ is the most trusted auto belay in the market for reliable fall protection and is used around the world at climbing gyms, indoor and outdoor climbing walls and recreation centers. TRUBLUE™ Auto Belay and Self Belay™ connectors erase the chance of an accidental webbing release and prevent climbers from connecting to incorrect harness points; braking resistance adjusts automatically to the weight of the climber, always resulting in a smooth descent.
The attraction is scheduled to open late November 2019.
Twisted Trails Course - $24.99

Twisted Trails Tykes - $7.99

Clip 'N Climb - $10 or a $5 upgrade to Twisted Trails or Twisted Trails Tykes.
Natural Bridge Caverns, located at 26495 Natural Bridge Caverns Road between New Braunfels and San Antonio, is open every day except Easter, Thanksgiving, Christmas and New Year's Day.


ABOUT NATURAL BRIDGE CAVERNS
26495 Natural Bridge Caverns Rd, San Antonio, TX 78266
https://naturalbridgecaverns.com/ l 210-651-6101 l https://www.facebook.com/naturalbridgecavernstx/ l @NaturalBridgeCaverns l #NBCavernsTX
On March 27, 1960, four college students, Orion Knox Jr., Preston Knodell Jr., Al Brandt and Joe Cantu from St. Mary's University in San Antonio began an underground exploration that ultimately would reveal the most extensive, largest cavern system in Texas. After hearing of an incredible 60-foot natural limestone bridge, which later became the caverns' namesake, the students asked landowner Clara Wuest if they could investigate what laid beneath their family's ranch. On the cavers' fourth expedition, they uncovered a long, narrow crawlspace that ultimately opened into 2 miles of virgin caverns. Today, their discovery is recognized as one of the world's premier show caverns.
Natural Bridge Caverns, located between San Antonio and New Braunfels, Texas, offers year-round activities including multiple cavern tours, a maze, an adventure course, gemstone mining, restaurants and shopping. Grounds offer several ideal settings for weddings, groups and birthday parties. Christmas at the Caverns includes holiday light displays, carolers throughout the caverns, and a hill country hayride. Natural Bridge Caverns is owned and operated by the Wuest family and is a designated State Historical Site, National Natural Landmark, and is listed on the National Register of Historic Places.